Best book for SSC CGL Math based on latest pattern
What you will get
Course Highlights
Based on latest Pattern
English Medium eBooks
Already Bookmark
Best book for SSC CGL Math based on the latest pattern
There are many books available in the market. You may find Kiran Publications, Rakesh Yadav Publications, Arihant Publications, etc. Problems with most of the books are that these books don't cover the latest questions that are asked by TCS. Nowadays TCS takes SSC exams whether it is SSC CGL or SSC CPO or SSC CHSL or SSC MTS; all SSC exams are conducted by TCS. In such a scenario if any student is preparing on old questions which are from the Year 1999 to 2017, then he is doing big mistakes. He will have to work extra hard and may not get good marks as well.
Why students focus on the latest Pattern for SSC CGL Math questions
Generally, if an organization takes an exam, that organization must have some people who will make those questions. E.g. if those people have made SSC CGL Tier 1 2020 questions, there are very high chances that those people will also make similar questions for SSC CGL Tier 2 math 2020 also. We have seen this pattern also. TCS is taking SSC exams from the year 2018. Interesting thing is that till now more than 5000 questions have been framed by TCS for SSC exams in the mathematics section. If students focus on these 5000+ Questions instead of old questions then students can cover relevant questions in lesser time.
TCS questions VS SSC CGL Maths books available in the Market
Except for Pinnacle Publications, no book is available in the market which covers all TCS questions chapter-wise. Other Publications Like Kiran Publications and Rakesh Yadav Publications, Arihant Publications, don't cover the latest questions of TCS. So covering questions from the year 1999 till 2017 and making the book big does not make sense. Students need to understand the latest pattern so that in less effort they can score high.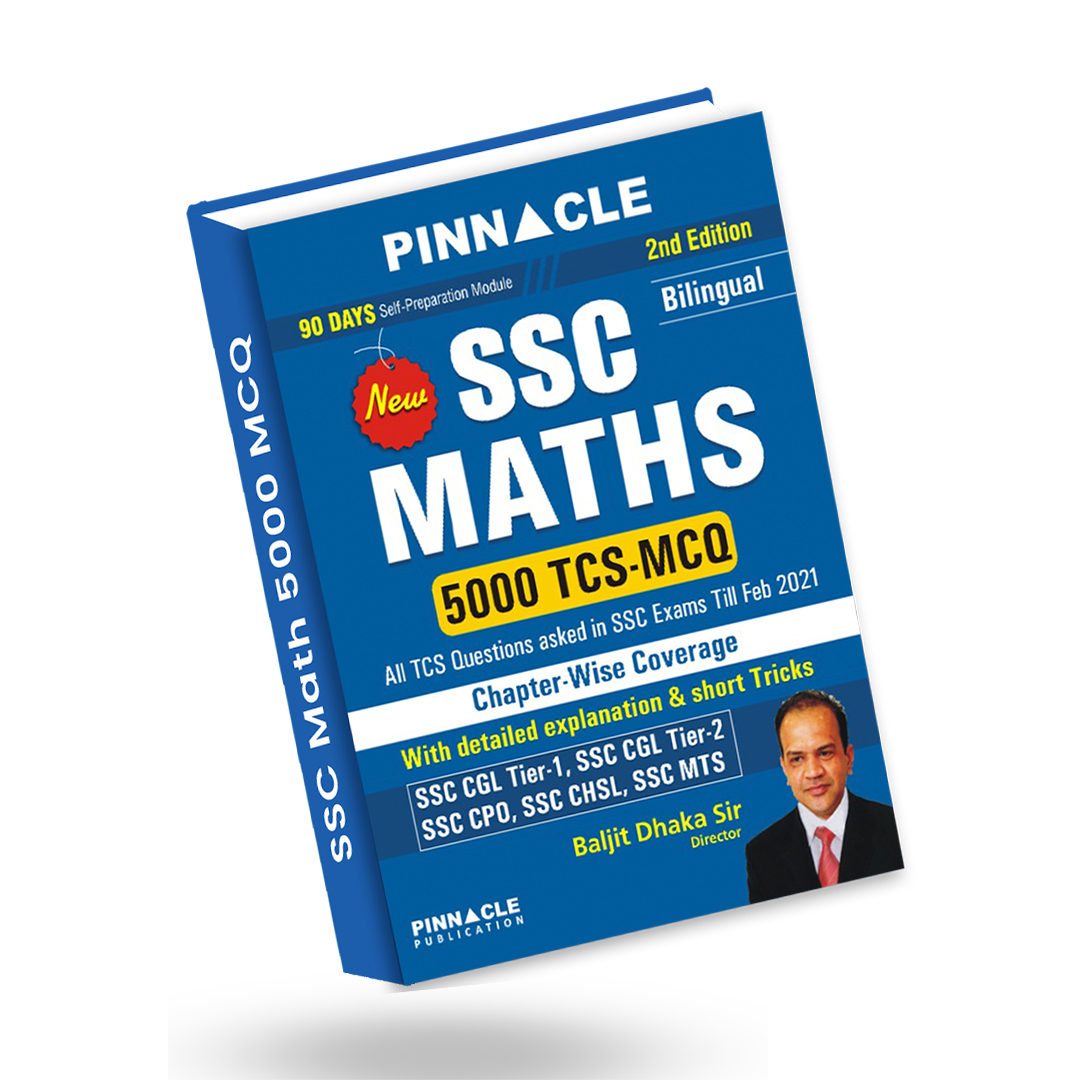 This book is available on Flipkart, Amazon, and Pinnacle website.
Flipkart SSC Maths 5000 TCS MCQ
Amazon SSC Maths 5000 TCS MCQ
Pinnacle Website SSC Maths 5000 TCS MCQ
Why should you purchase SSC Maths 5000 TCS MCQ book?
This book is totally based on the latest pattern and covers all TCS questions asked in SSC exams like SSC CGL Tier1, SSC CGL Tier2, SSC CPO, SSC CHSL, SSC MTS.
If you are a subscriber of Pinnacle then you will find a video solution of 80% of questions chapter-wise of TCS questions. So Pinnacle course and Pinnacle Maths book will be the ideal combination for preparation.
Varieties questions of each chapter are given at starting of the chapter. This will help students to cover all varieties of questions fast means covering SSC math with very high speed in fact in very few days.
Whatever needed questions are solved by tricks along with a detailed explanation. This will help students for conceptual clarity and learn faster solving techniques.
We hope this article will help you to understand the importance of solving the latest pattern questions and scoring high in fewer efforts.