Best Books for SSC CGL Preparation 2021
What you will get
Course Highlights
Based on latest Pattern
English Medium eBooks
Already Bookmark
Best Books for SSC CGL Preparation 2021
The best books are those books that are relevant to particular exams, contain the latest pattern questions, given contents systematically chapter-wise, given basic concepts at starting of a chapter.
Pinnacle Publications books are the now a days best-selling books for SSC exams. Pinnacle SSc CGL coaching a specialized coaching institute for SSC CGL exams for the last 11 years. More than 1000 selections are given by each year in SSC CGL by Pinnacle.
Pinnacle Publication Books
Pinnacle provides online coaching and is a premier online platform in India for SSc exam preparation. Pinnacle is the only institute in India that provides all 4 tiers of coaching for the SSC CGL exam.
Now Pinnacle has started its own publications. Students will get the best contents that were taught by the pinnacle team after doing a lot of research in videos and PDFs. Students will get Pinnacle Publications books in the market. These books are well-researched books developed under the guidance and leadership of Baljit Dhaka sir and Neer madam.
SSC CGL books
Pinnacle has released 4 books till now for SSC exam preparation. These books are the best only for the SSC CGL exam but also for SSC CPO, SSC CHSL, SSC MTS, and other SSc exams. Many other books for SSC CGL and other SSC exams are in pipeline.
SSC Math book
This book all questions asked by TCS till now. TCS started to take exams in 2018. Till now more than 150 shifts of SSC exams have been conducted till now. This book covers chapter-wise all TCS questions. In starting of each chapter basic concepts are explained. So this book is also highly useful for beginners also.
Where required explanation is given by alternative methods and tricks are given for the faster solution of the questions.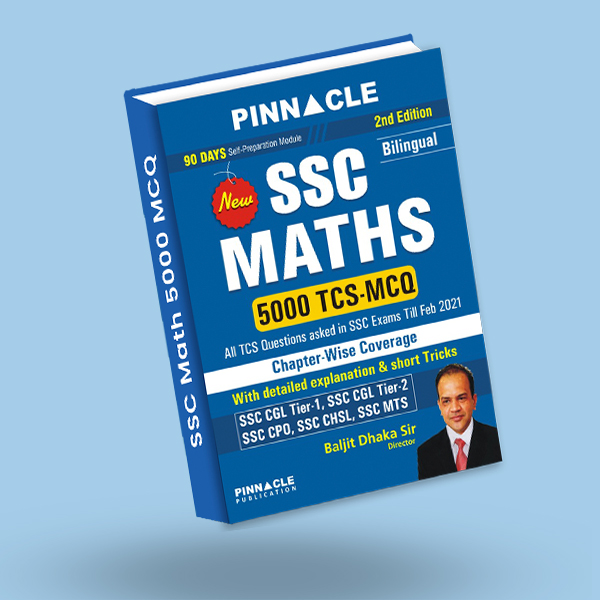 SSC English Book
This book covers all SSC exam questions taken by TCS.
Questions covered of the following shifts for your understanding
SSC CGL Tier1, SSC CGL Tier2, SSC CPO Tier 1, SSC CPO Tier 2, SSC CHSL, SSC MTS
This book contains 6125 previous years'TCS questions. These questions cover all the SSC exams conducted by TCS till Feb 2021 which includes SSC CGL Tier 1, SSC CGL Tier 2, SSC CPO, SSC CHSL, SSC MTS. The index gives a detailed analysis of the number of questions asked from each chapter in each exam. This will help a candidate to know the importance of a particular chapter. Explanations are in Hindi as well as English (Bilingual). So both Hindi medium and English medium students will be benefitted. There are 561 pages in the book. All four options have been explained in detail so that the students understand the elimination technique well. A detailed solution along with examples and Hindi explanation will be highly beneficial to the students. The explanations are in very simple language. Those students who score fewer marks in spot the error questions should buy this book without a second thought as that is the special attraction of the book. You will surely see a rise in your score. This is the most relevant book available in the market with the best explanations. The vocabulary part is the special attraction of this book. If one could memorize its vocabulary, chances are very high that one's vocabulary part in the SSC English examination will become one's highest-scoring part. This book is developed by Neeru Madam and her team who have 10 years+ experience in SSC exams. Hence if you could practice these properly, your chances of getting good marks in SSC English will increase by leaps and bounds.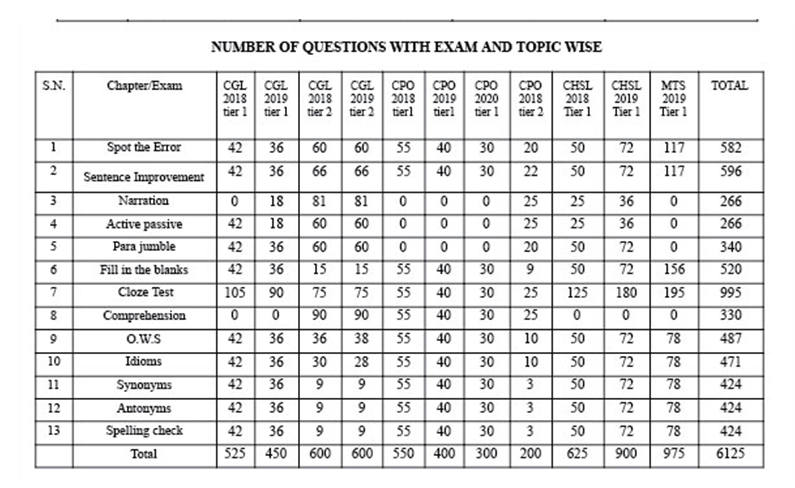 SSC Reasoning Book
This is a bilingual book, questions are in Hindi and English while solutions are in English only.
This is unique in the market which covers only relevant contents i.e. TCS asked all questions chapter-wise with a complete solution.
Till now all SSC exams conducted by TCS till date are covered in this book. In other words, you can say this book tells you about the latest questions asked by TCS in SSC exams.
All questions are arranged chapter-wise. There is a total of 22 chapters in this book.
The best part of this about its index pages which tell you how many questions are asked from which chapters. This will help you to make your strategy and cover the reasoning syllabus in less time.
This book is true self-guidance for you. You know which chapter is more important or less.
High-quality paper and quality binding are used in the printing of this book so that it becomes durable for the entire journey of SSC exam preparation.
Total 545 pages are there in the book including very important index pages as guidance.
Explanation of each chapter is given after all the questions of that chapter. Before explanation, the answer key is published of all the questions of that chapter.
The theory portion to explain the chapter is given at starting of the chapter so that basic concepts are clear before solving questions.
Those students who have joined Pinnacle online course, they will be in a better position to solve the questions. In videos theory and chapter-wise questions are covered of TCs exams.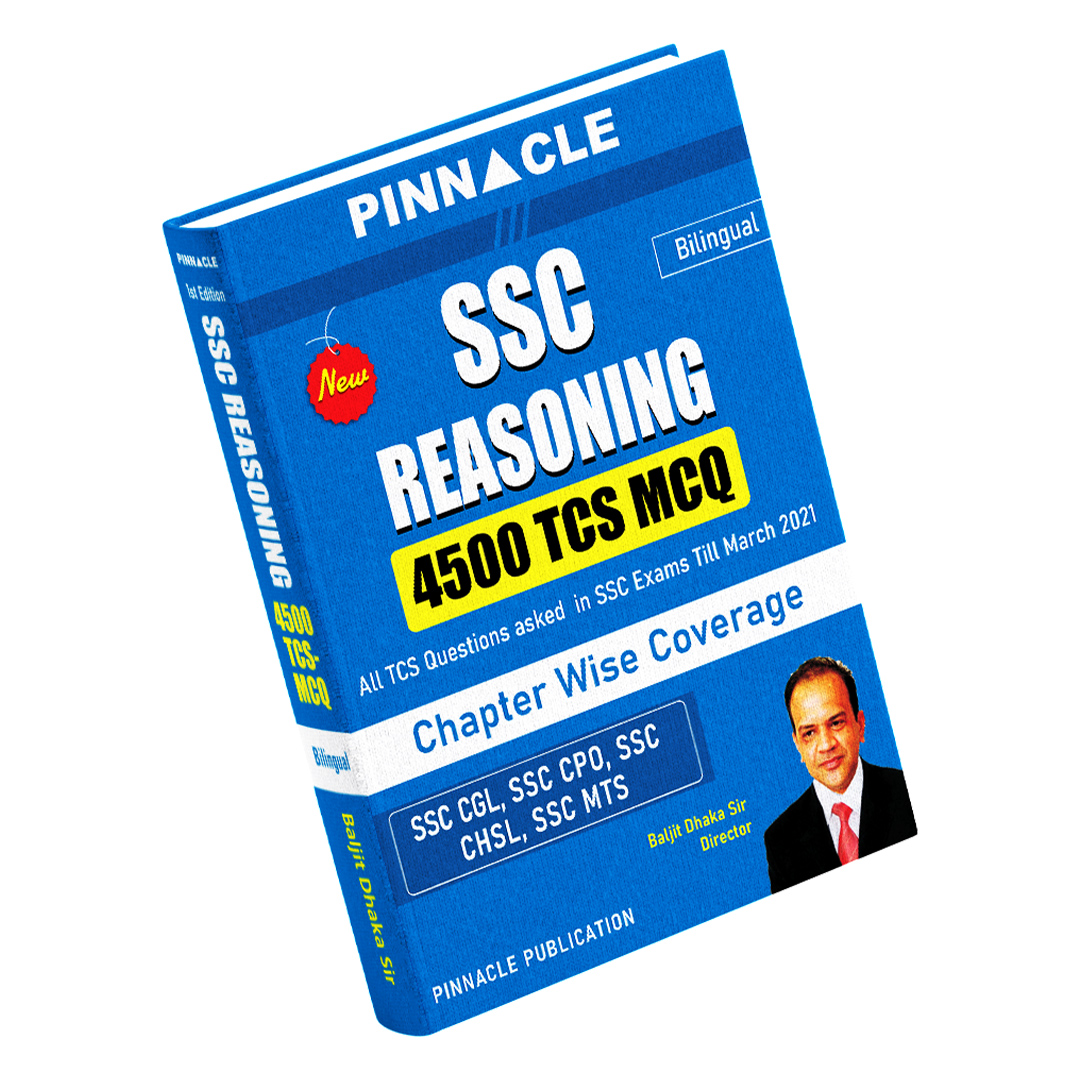 SSC GK Book
This book covers all SSC exam questions taken by TCS.
Questions covered of the following shifts for your understanding
| | | | |
| --- | --- | --- | --- |
| S. No. | Name of exam | Date of exam | No of shift |
| 1. | CPO 2018 Tier I | 12 March 2019-16 March 2019 | 11 |
| 2. | CGL 2018 Tier I | 4 June 2019- 13 June 2019 | 21 |
| 3. | CHSL 2018 Tier I | 1July 2019-11July 2019 | 25 |
| 4. | MTS 2019 Tier I | 2 August 2019-22 August 2019 | 39 |
| 5. | CPO 2019 Tier I | 9 December 2019-13 December 2019 | 8 |
| 6. | CGL 2019 Tier I | 3 March 2020- 9 March 2020 | 18 |
| 7. | CHSL 2019 Tier I | 17 March - 26 September 2020 | 36 |
| 8. | CPO 2020 Tier I | 23 November -25 November 2020 | 6 |
122 shifts and 4045 MCQ
2. Questions are bilingual means given in English and Hindi both while the solution is given in English.
3. Answer and explanation of each question are given just after the question so it will reduce your time and will help in fast revision.
4. Questions are chapter-wise. The most important point about this book is a big index, it will help you to understand what kind of questions are asked and how many questions are asked from each section. Accordingly, you can invest your time.
5. Explanation is given in detail so it will help you prepare in a much better way as this book will act like theory with practice.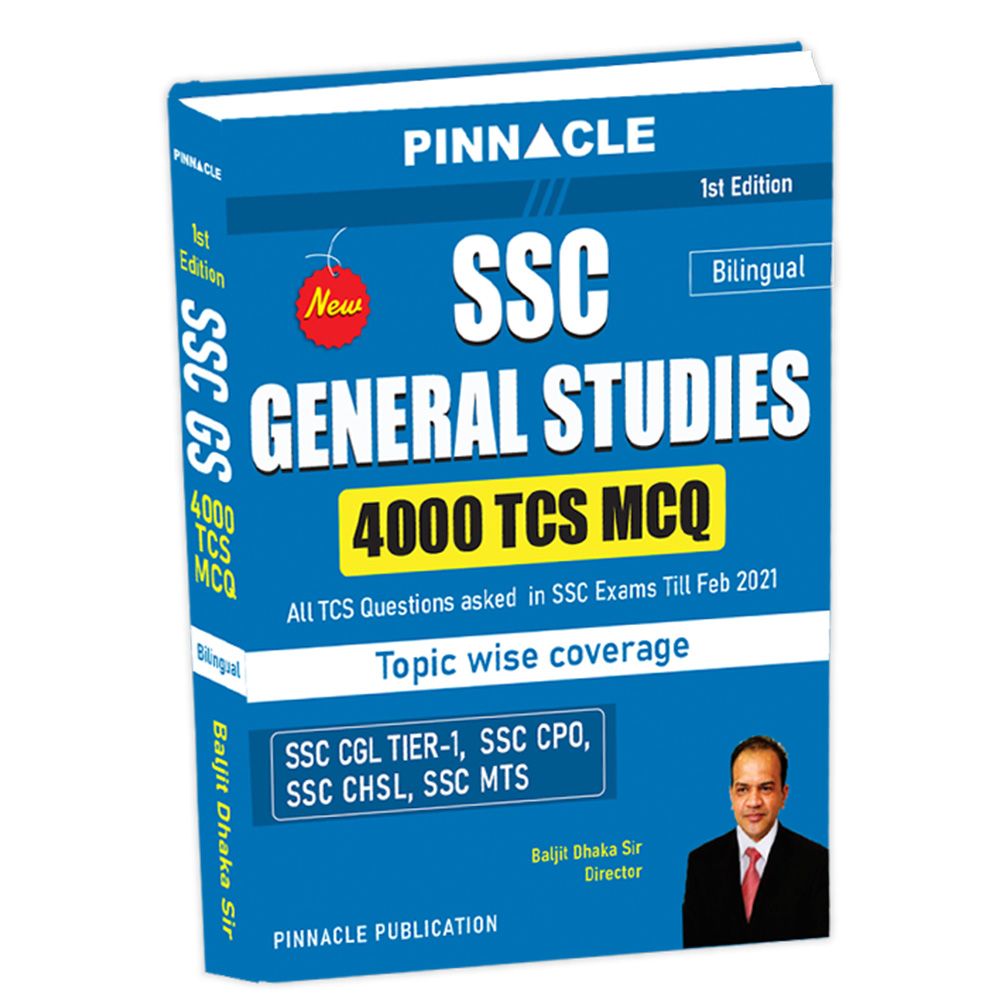 Where to find Pinnacle Books
Pinnacle books are listed to purchase on Pinnacle website www.ssccglpinnacle.com, Flipkart, Amazon, Book stalls Mukherjee Nagar all 32 bookstalls and many leading bookstalls across India. In the coming days, Pinnacle is planning to reach and make books available at every bookstall in India so that students can purchase the books directly from the stall.
How to search Pinnacle SSC books
Visit Flipkart or Amazon, then go to their search bar and search terms like Pinnacle SSC Math book, Pinnacle English book, Pinnacle GK book, Pinnacle reasoning book. Alternatively, you can visit the book section of Pinnacle's official website www.ssccglpinnacle.com.
You may find the below articles useful